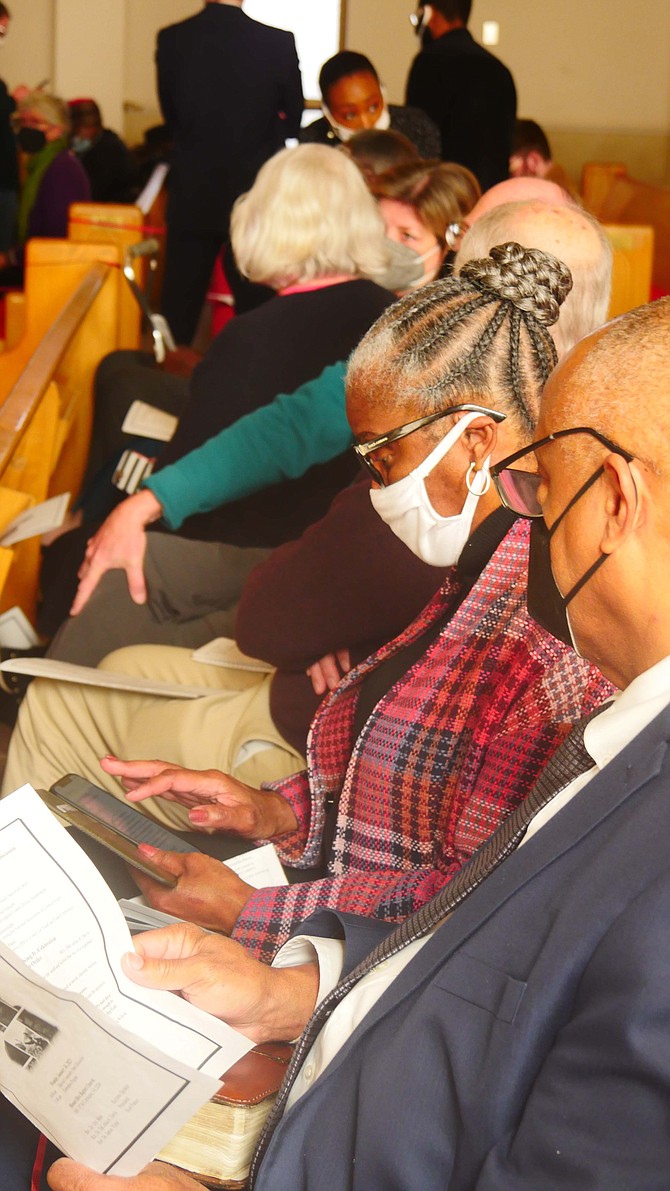 The church organ notes bounce off the pews at Mt. Olive Baptist Church on MLK Day. "Mine eyes have seen the glory of the coming of the Lord. Hallelujah! His truth is marching on." The Beloved Community Celebration commemorating MLK's Legacy is about to begin. 
Guest speaker is Rev. Dr. Otis Moss Jr., an influential religious leader who co-pastored the Ebenezer Baptist Church in Atlanta, Georgia with Martin Luther King. The pastor of Mount Olive Baptist Church, Rev. Dr. James Victor, asked for a warm welcome for Moss who was preaching his first time in Arlington. They had spent last night remembering days together and "excavating ghosts which they were not privy to share."
Moss begins, "The word today is about living and learning and serving from the life of a prophet of God. Of course that prophet is Martin Luther King." The Biblical text is Isaiah 61 and Luke 4. "The spirit of the Lord is upon me. God has sent me here to heal the broken hearted."
A voice from the congregation shouts Amen! 
Moss tells the congregation to examine the text and allow the text to use you. He says, "I want you to help me out. Look at your neighbor. If you don't like your neighbor, we're going to pray for you until you love your neighbor. You will go through many changes and find yourself growing strong in the broken places, and that is the lesson of MLK." A chorus of "yah yah" comes from the back pews.
He urges each person to put a hand across his chest and to pledge to make a difference. "Now put both hands across your chest and pledge in this time, in this space, we can; we must; we will make a difference. Do you hear me?" 
"Oh yeah."
Moss remembered during the bus protest when MLK stopped in Atlanta on his way to Montgomery and his father had called together the leadership in Atlanta to convince him to leave Montgomery. But MLK said he'd rather spend 10 years in jail than turn his back on the people in Montgomery who had placed their confidence in his leadership. "This was the mission of MLK to make a difference."
Moss shared stories about MLK that concluded that in one way or another King had been responsible for electing six different Presidents, mostly from his jail cell. 
Through prayers, scripture and the keynote address, the theme of community reinforced "living the faith we all preach but seldom experience." Sis. Candace Hunley's powerful voice moved the congregation to clapping, swaying and foot tapping as she sang hymns of spiritual inspiration. 
Moss's career has led him around the world where he has advocated civil and human rights and social justice issues for most of his adult life. Moss began as pastor of Mount Olive Baptist church in LaGrange, Georgia from 1954-1959 and moved to several other congregations before serving as lieutenant to MLK. He was called to be pastor of the Olivet Institutional Baptist church in Cleveland in 1975, where he continues today.
Rev. Dr. DeLisha Davis, pastor of Calloway United Methodist Church and President of the Arlington Coalition of Black Clergy who sponsored the event concluded, "A fire has been ignited in each one of us to make a difference in the world." She led the group and the congregation joined in, "We are climbing Jacob's ladder. Every round goes higher and higher." She concludes, "We should all take that fire and use it to build a community the way we learned from a prophet of God."
.