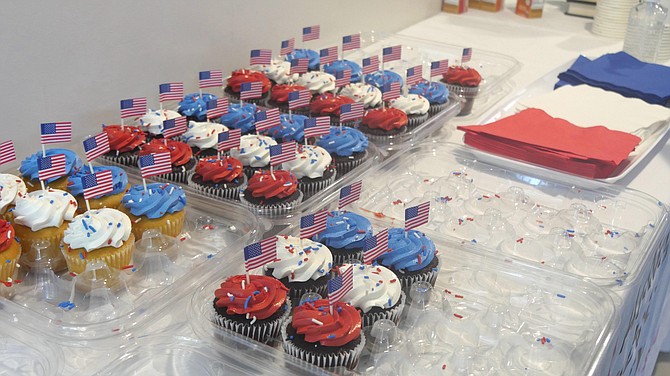 It is a full house at Arlington Central Library auditorium on Aug. 24 with the first three rows filled with fifty people from 39 countries, each person clutching a small American flag. You can see the excitement on the faces; some have been waiting 20 years for this moment. They have all been interviewed by an officer, demonstrated they can read, write and speak English and demonstrated a knowledge of American history. 
Behind the faces there are many stories.
Jovan Todosijevic from Serbia has been here 11 years and met his wife Victoria here. "I had to go through all the steps and they took a long time but it was worth it. It is exciting." He finds there are a lot of cultural differences between Serbia and the United States, "but at the same time America is able to function like that. There is no other place where it works." He says he is a limousine driver as a full time job and now has his own business.
Cheikh Lioussi from S. Morocco has a different story. He is younger than most of the others in the room. Lioussi says he came at 25 and has only been here 6 years. "I had my green card in 11 months. I am the first in my family to come here. I just wanted a new experience." He likes the diversity of food in America. "It is amazing; you can get anything you want … Chinese, Ethiopian. … But one of the best things about America is this beautiful lady I met here who is my wife." Lioussi is a journalist for Al Jazeera. 
Anik Byanju from Nepal sits on a bench in the library after his citizenship ceremony with Anita Shrestha and eight-month-old Aakanshya Shrestha who is sampling bites of the red, white, and blue cupcakes offered after the ceremony. Byanju says he lives in Woodbridge where he is a hotel worker. Shrestha remembers when they first arrived it was difficult to know whether you could use the language and the food in America wasn't flavorful. "We eat everything spicy in Nepal," Shrestha explains. But now they have become fond of pasta and most American food although they still cook Nepalese at home.
All three agreed one of the biggest differences that took some adjustment is the weather in northern Virginia. Shrestha says, "You can't exist without air conditioning here; nobody needed it in Nepal." 
Todosijevic adds, "the humidity—not like Serbia." 
Lioussi says in S. Morocco it is dry and hot. When he arrived in April it was nice, but a few weeks later the hot humid weather hit.
Diane Kresh, Director of Libraries at Arlington County, opened the ceremony: "It is with great pleasure to host you on this very special day.
"You left behind families and friends, cities, farms and villages. It has taken you patience and diligence to get here today." She says the new citizens have been granted rights but with that comes responsibilities. "A representative government depends on the active engagement of all citizens." She explains that's where libraries come in. "Everyone has a right to know, to have access to information. That's what makes a democracy work."
Ron Rosenberg, District Director of USCIS says he is pleased to be the one to administer the oath. Those assembled have come from all around the world but he says he lives in Arlington just down the block. "Please stand." The Space Force color guard from an Arlington Career Center ROTC class marches down the center aisle and lines up in front of the group. 
"As your country of nationality is called, please stand up. Argentina, Bolivia …" and on down the list to Zambia.
The group recites the oath of citizenship in unison. 
Rothenberg pronounces, "You are all American citizens." A loud cheer reverberates around the room. 
Hands over your heart. "I pledge allegiance to the flag of the United States of America."
Tannia Talento, Arlington County Board interim chair and daughter of Guatemalan immigrants, shares her own perspective. "My dad was a cabdriver, my mom a cook. Both rose in their professions. I have family in Guatemala who died in protests. 
"I know how hard your journey has been, how hard it is to leave your home, language, culture. You don't have income and don't even know if anyone will understand you." She says you don't have to forget where you are from to experience being a new citizen. "You can be both." 
She adds that we are still fighting social justice issues in America but you can give back to the community. "Please register to vote. This is one of the few countries in the world where our voice has an impact.
It is truly an honor to be here. I know how special it is."
The ceremony ended with a video message from the President of the United States. "What you all have in common is courage. We are founded on the idea of everyone created equal, of possibility." 
Sharon Scheidhauer, USCIS Public Relations Officer, says in FY 2022 USCIS welcomed 974,000 new citizens, the highest number in almost 15 years. In 2023 as of June 7 USCIS has given the oath of allegiance to 588,900 new citizens. 
Naturalization Oath of Allegiance to the United States of America https://tinyurl.com/5yznhtys