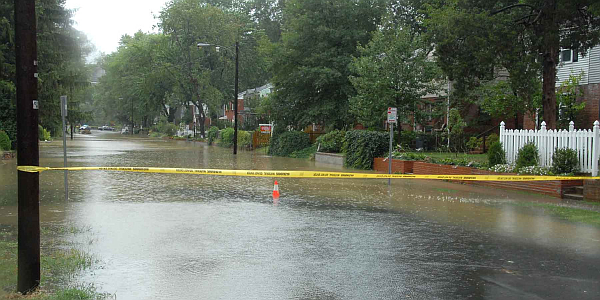 As Hurricane Ian pushed up the coast after dumping massive rainfall everywhere in Florida, concerns remained about the aftermath, inland flooding and with it, flood insurance. Fairfax County has recommended flood insurance for some time now, and even has a push on the website.
Courtney Arroyo from the county emergency management program hosted a webinar on the county website to highlight concerns about flooding. She was joined by Bill Bradfield of FEMA. One point they both highlighted is that most home insurance policies do not cover flooding. "Everyone lives in a flood zone," Bradfield said.
The webinar also explained the National Flood Insurance Program has a new Risk Rating 2.0 system, which impacts the insurance rates. Flood risk is looked at as well as each individual property's geographic location and building characteristics. The new Risk Rating 2.0 took effect for new policy holders on Oct. 1, 2021, and impacted existing policy holders on April 1, 2022.
FEMA said it's a new pricing methodology, Risk Rating 2.0, leverages industry best practices and cutting-edge technology to enable FEMA to deliver rates that are actuarially sound, equitable, easier to understand and better reflect a property's flood risk.
This was never more apparent than a flood in 2011 where homeowners in the Huntington area of Alexandria suffered damage from the rising waters on Cameron Run. Leo Funes lives between Huntington Avenue and the creek, and he's had water in the basement before so he bought flood insurance. "In 2006 there was a lot of flooding, 2011 too but now that there is a retaining wall, it doesn't seem that bad," he said.
Boats Impacted
Houses aren't the only worries. According to Boat US, a flood storm like Ian can damage boats on inland waters too. If a boat is moored to a stationary dock and the water level suddenly rises, the boat can get swamped and sink.
"Hurricane preparation is no longer an issue just for coastal boaters," said BoatUS vice president of Public Affairs Scott Croft. "2011's Hurricane Irene showed us that storms can damage boats on freshwater lakes and rivers, or when stored in backyards, far from the coast."
The coastal boats are still in harm's way though, and this was seen in Fort Myers right after Ian went through, destroying docks and pushing boats right up to the boathouse and beyond, some landing on top of houses.
Scott Croft, Vice President Public Affairs at the Boat Owners Association of The United States (BoatUS) noted that most recreational boat insurance policies are purchased on or shortly after purchase of the boat but waiting for a weather crisis is not a good move. He noted that many boat insurance companies temporarily stop sales of new policies in areas along the storm's predicted storm path.