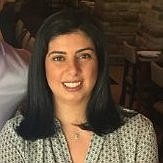 Grace Shea, Executive Vice President of Arlington's Lebanese Taverna pairs a Chapless Horseman Stout from Denizens Brewing Co. in DC with Lebanese Taverna's braised American lamb, spiced rice and yogurt salad. This special menu feature is offered as part of the variety of local specialties for the "Connecting through Collaboration" 14-day festival celebrating Women's History Month sponsored by RE:Her. Shea says this partnership works out because Julie Verratti at Denizens Brewing doesn't have a distributor in this area. "That's what RE:Her is all about — collaboration, partnership and helping each other out."
Shea says that the lamb is a very rich dish that cooks for hours in cinnamon, allspice and cardamon with some bourbon and is a good balance to the East European Imperial Stout. "Americans think that cinnamon is strange for meat; it's like for pumpkin pie, but Lebanese use the sweet spices in their dishes." Part of the profits will be donated to the Ukrainian Women's Guard that provides military, self-defense and other training to Ukrainian women. 
RE:Her DC grew out of an organization started in Los Angeles at the beginning of the pandemic to connect, collaborate and further the careers of chefs, restauranteurs, and others in the hospitality business. This local event marks Women's History Month "which commemorates the role of women in history and reflects on what is yet to be done." It celebrates women pioneers with custom cocktails, innovative food pairings and irresistible combinations produced by food and drink entrepreneurs across the District area.
Shea says the DC chapter of RE:Her is the second to join the national organization and includes women from all over the DMV area. "Women entrepreneurs came together to support each other coast to coast. It has been great to have access to these successful women on weekly calls. It has been a great resource on everything from grants to PPE to finding a good cost for containers and sometimes just a shoulder to cry on. It has been priceless."
The festival kicks off on March 14 with Women at the Wharf at Hanks Oyster Bar on the Wharf at 6 p.m. The evening will combine appetizers, a three-course family-style dinner and specialty cocktails by chefs from RE:Her DC with several RE:Her LA restaurateurs to provide the best gastronomic and mixology efforts of the group. Meanwhile women entrepreneurs all over the area will be showcasing special gastronomic creations for the two-week celebration.
Shea says Lebanese Taverna was established by her parents in 1979 in Arlington's Westover neighborhood and has expanded to five other full-service restaurants around the area and fast casual eateries with a deli case, grab and go lunch and Lebanese groceries. Her role in the family-run business is to serve on the Board of Directors, work with employees and work with the community. 
Fiona Lewis, a founding member of the women's support group in 2020 that predated RE:Her DC, says, "When the pandemic started we all needed some help, and there had been nothing like this group in DC before." She explains, "This camaraderie is inspirational. It is a feeling of relief. We all know exactly what the other one is going through at different stages." 
Lewis owns District Fishwife, On Toast, and Son of a Fish in D.C. For the festival she is pairing with Tricia Barba of Preservation Biscuit Company to present The Queen breakfast biscuit sandwich featuring a sous vide egg, hollandaise and the Fishwife's lox.
Lewis says the membership in RE:Her DC grew out of their first organization and is just beginning to take off with about 50 members. "We hope to raise money and offer grants to women who need help, assistance with machinery, anything that is needed." As an example she remembers when a 60-quart mixer broke down. It was needed for the next day, and it was impossible to replace quickly during COVID. "The woman instantly had three offers for loaning equipment. That's what we do for each other."
"This is an amazing group of women."