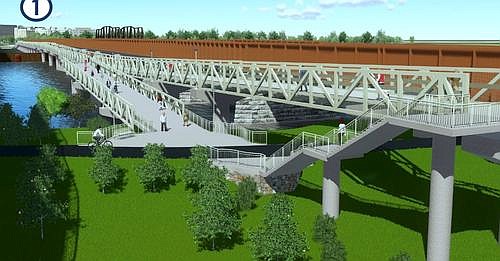 Mount Vernon bike trail users may have another Potomac River crossing coming in the form of the Long Bridge Pedestrian and Bicycle Bridge. The Long Bridge recently got closer to fruition with a $20 million grant from the $2.2 billion from the Rebuilding American Infrastructure with Sustainability and Equity (RAISE) program the Biden administration recently secured.
This bridge will be located alongside a few existing road and rail bridges in the heart of the mid-town transportation links between Arlington County and Washington, D.C.
Among the supporters of this bike link are the Friends of the Mount Vernon Trail, who look at this future bridge as a big gain for pedestrians and bicyclists because it will be separate from the traffic. Currently there are crossings, like on Memorial Bridge for example, but pedestrians and cyclists are just a few feet from the traffic. The stand-alone bridge is a solution to that danger. 
"This will be the only Potomac crossing for bicyclists and pedestrians that is separated from loud and high speed highway traffic which makes crossing the river stressful," said Judd Isbel, the president of the Friends group. He also touted the fact that the new bridge will provide a direct connection between the Mount Vernon Trail and destinations in National Landing and East Potomac Park.
In addition, the 2,300-foot-long bicycle-pedestrian bridge will create an accessible and more affordable way for the community to connect to the surrounding Virginia and District of Columbia areas through a network of bicycle and pedestrian improvements, DOT information said.
According to the DOT, the RAISE program is one of several ways communities can secure funding for projects under the Bipartisan Infrastructure Law's competitive grant programs. Later this year, the Biden-Harris Administration will announce recipients of the first-ever National Infrastructure Project Assistance (MEGA) program, as well as the Infrastructure for Rebuilding America (INFRA) program and the Rural Surface Transportation Grant Program (RURAL), their information said.
Construction dates have not been set yet.