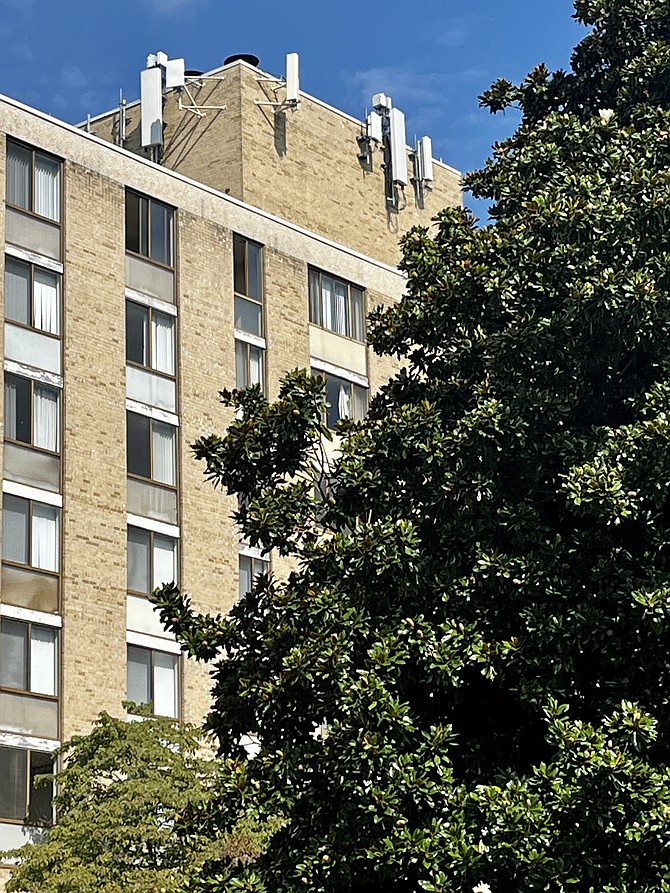 Supervisor Walter Alcorn (D-Hunter Mill) visited the Reston Farmers Market on Saturday, July 30, and spoke with vendors whose point-of-sale systems that rely on a common commercial carrier signal have experienced difficulties recently. Alcorn reported that AT&T is attempting to restore service. They hope to use their old panels on the empty Lake Anne Fellowship House to restore full service until the building is demolished later this fall. Alcorn said that AT&T informed his office that it could take up to two weeks to acquire the necessary equipment to restore the functionality of the old panels.
"AT&T and Verizon both have panels on the old Lake Anne Fellowship House, and both companies are again talking with the owner of the new Lake Anne House for possible longer-term solutions. Those discussions continue," said Alcorn.
In the interim, Alcorn reports that AT&T has installed a temporary truck-based antenna in the area to facilitate emergency communications and that Fairfax County staff are examining this week the possibility of extending public Wi-Fi coverage beyond the Reston Community Center at Lake Anne.
On Friday, July 29, Fairfax County Emergency Information released an online statement, AT&T Coverage Problem Impacts 9-1-1 in the Reston-Lake Anne Area. "An issue with AT&T cellular service has been identified in the Reston-Lake Anne area that may result in service outages, including the ability to contact the county's 9-1-1 service."
The temporarily deployed cellular support truck in the affected area is anticipated to improve service until the coverage issue is resolved. 
AT&T recommends the following temporary solutions for service disruption: If the option is available, use a landline to call 9-1-1. If the option is available on your device, use Wi-Fi to place calls. If you are located within the affected area and experience an emergency, relocate or send someone outside the area to obtain service, if possible.