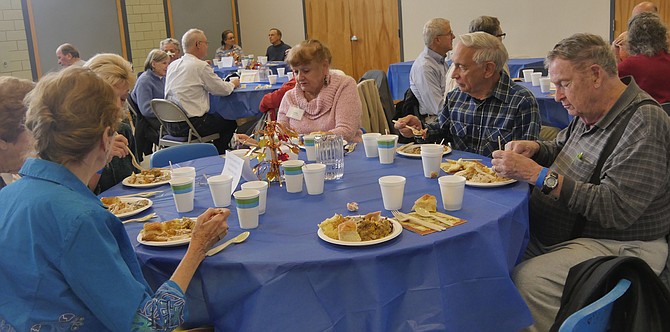 "Let me take water out of the fridge and we'll be ready." The mashed potatoes come out first. Mona Farah checks the potatoes with a thermometer to be sure they are at least 140 degrees.

Farah has been in the kitchen with Anne Peret at Lee Community Center heating up the traditional Thanksgiving dinner donated once again by Harris Teeter. Soon the mashed potatoes are joined by cornbread dressing, green bean casserole, turkey and steaming gravy.
Myrna Manolis says she has been working on these dinners for 20 years since she first went to Harris Teeter with the idea. Usually they have about 80 people for the free lunch.
"The manager told me to write down a letter of what we wanted. I decided to ask for it all so I included cokes, rolls, cranberry sauce. And he said 'fine.' So now I just double check about two weeks ahead of time." She said they have thank you cards for everyone to sign for Harris Teeter on each table that were designed by their own stampers at Lee.
Chattering fills the room as old time attendees catch up and new ones find a spot at a table. A glass bowl with numbers sits by the paper plates at the beginning of the line. "We'll be calling the tables up by numbers." Lucky number 4 is the first to load up their plates. "We always have plenty of food." Some of the people are already looking forward to their second helping. Everyone has a favorite. "White meat only for me please." "Extra mashed potatoes." "I never eat cranberry sauce."
The lunch is sponsored each year by the Lee Advisory Committee and the Alliance for Arlington Senior Programs.