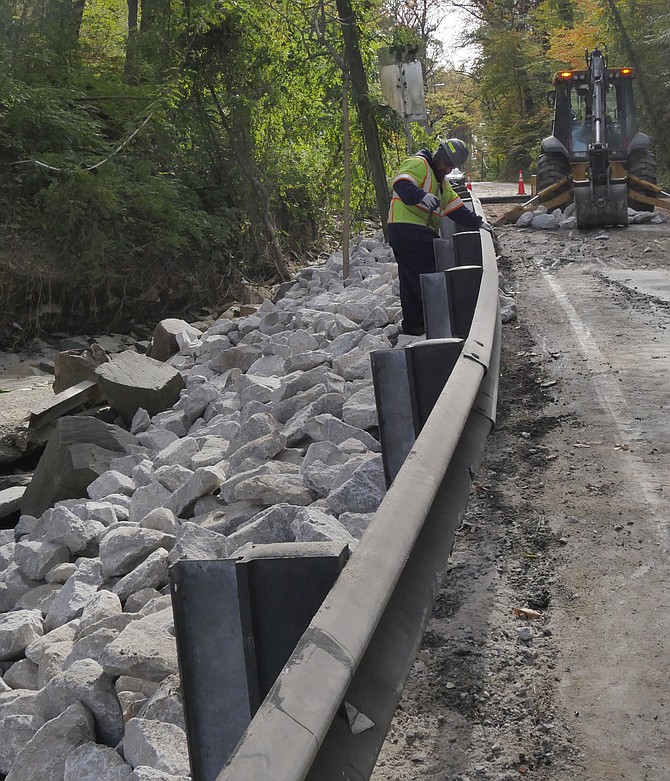 Chief Operating Engineer of Arlington County Department of Environmental Services Amani Eisa drives down barricaded Glebe Road toward Chain Bridge on Saturday morning to check out the progress of repair on Chain Bridge Road and "how the guys are doing."
She says the crews have been working in shifts round the clock since the 36-inch water pipe blew up under the road early Friday morning. "See those cracks. The goal is to rebuild the road to ensure stability and make sure the road is 100 percent safe to carry a full load of traffic." She said this has taken a huge effort from everybody including the communications team. She didn't want to promise but looked hopeful that the problem would be resolved by sometime Sunday. "We're doing all we can."
Martha Rosvak walked across the parking lot at a local Safeway early Saturday morning carrying a large case of bottled water. She said she had no running water at home at 5 a.m. on Friday morning after the water main break that closed down Chain Bridge as well as county offices and public schools.
"When the water came back on it was murky looking and is still coming out brown. I stayed the night at a friend's house so I could take a shower and didn't have to boil water to brush my teeth." She was headed back home to Monroe Street to assess the current situation.
Eisa says the color of the water some people experienced was due to extra oxygen when the water came back out of the pipes, not due to contamination. "But we follow the rules and regulations as a precaution until the sampling has been done." She says the pipe that burst was right at the start of the system so when it broke, it took a lot of the system down.
Arlington had issued a boil water advisory for parts of the county early Friday morning. They anticipated the warning would be in place until at least Sunday when they have confirmed the safety of the system and cancelled the advisory.
Ninth grader Aiden McGeehan was at his bus stop at 6:58 a.m. on Friday when he learned from a text received by the other student at the bus stop that school had been cancelled. He said he missed an English quiz scheduled for Friday, and this would give him five extra days to study. But he said it would have been nice to know since he had to walk six blocks back home. Although school was cancelled, he spent the afternoon raking leaves at his grandmother's house. "But it was a good tradeoff. At least I got paid raking leaves."
Frank Bellavia, Coordinator for Media Relations for Arlington County Public Schools says, "We notified families and staff through email, text message, social media and tv." He says once the decision had been made based on conversations with staff, the message went out close to 7 a.m. "Bus drivers that were out continued their routes to let students know about the closure."
Amy Kaetzel, a preschool teacher, said she learned from a neighbor's text about 7 a.m. that school was closed. This means the preschool was closed as well since their schedule is coordinated with the public schools. She said that people really don't like it when the preschool is closed. What do you do if you have a meeting?
"I could just call my neighbor or my mom. But it is hard for families with school closed for voting on Tuesday, then again on Friday due to the water main break and next Monday for Veteran's Day. Friday wasn't something you plan for. I worry about the lower income families who can't afford to miss work and have to pay more for a babysitter than they earn at work that day." Kaetzel says her own children are 15, 13 and 10 so you can leave them alone together. But she added you don't want to leave your teenager by himself who invites all his friends.

Specific instructions were issued by the County about use of water including to use bottled water if possible with updates sent out every several hours; if not possible to use bottled water to heat tap water to boiling and boil for three minutes. Boil even if tap water is filtered. Use for bathing small children, making ice and for drinking water for pets as well as your family. Laundry and dishwashers were safe to use as usual. Shelves stocking bottled water were mostly empty in grocery stores in Arlington on Saturday morning.