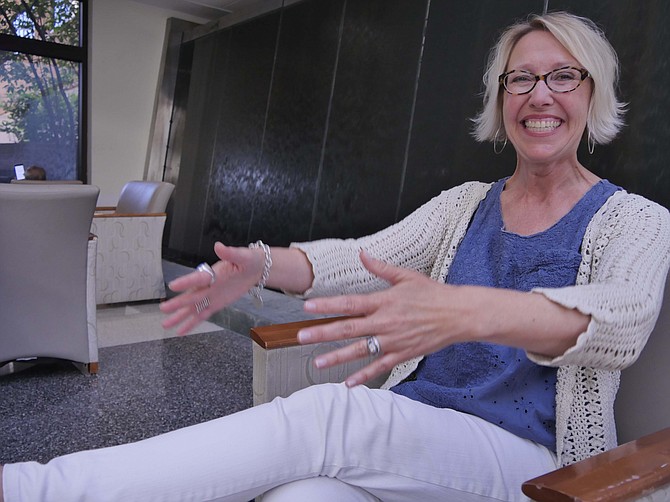 Mary Belanich has just dropped off her client at the Wound Healing and Hyperbaric Center located at Virginia Hospital Center, where she is being treated for a wound to her toe. Belanich has been with her client since she picked her up at 11 this morning for an 11:20 a.m. pre-appointment and then to the outpatient lab to have lab work done.
They shared a roast beef sandwich in the cafeteria and visited until it was time for the hyperbaric oxygen appointment at 2 p.m. But they arrived at 1:30 "because she needs to get prepared — no street clothing, no nail polish. They take her blood pressure and don't proceed unless it is within a certain range."
Belanich says, "They put my client on a gurney and then she goes into a sealed chamber where they expose her body to 100 percent oxygen into the chamber to help heal tissue that is damaged." But Belanich explains the chamber is transparent and someone sits outside to monitor her client and make sure everything is fine "and to put on Gunsmoke if she likes to watch it, which she does."
Belanich says her client has these two-hour treatments five days a week with a recommended total of 20. "I think today is number 16. Her podiatrist in last week's appointment said her toe looks really good with new tissue growing."
Belanich says today's client is in her mid-80s and lives alone. She never married and has no children. She is independent, never drove, takes the bus. Things were going fine until she had an incident and ended up in the hospital, then rehab, and respite a month. "I assisted with all three of these transitions. We've built a relationship. She was one of my first clients when I started my Aging Navigator business in Alexandria in February of this year."
The services Belanich provides to this client include accompanying her to doctor's appointments and making sure her prescriptions are filled and she has food. "She is very sharp but she has a lot to juggle with all of these appointments." Belanich also got an appointment with a diabetic educator to help her client learn how to keep the log that her endocrinologist requested. The hospital offers so many services; people have no idea.
Belanich says it is important to be prepared for a doctor's appointment and she also counsels clients to do a little prep beforehand to think about what are their concerns and how they are feeling. "I take notes during the appointments and we review them together afterwards." In the case of today's client, she also shared relevant information with the nephew about progress and concerns. She says it's not easy to navigate the health care system, especially when you're not 100 percent. Belanich adds that she managed long distance care for a parent herself and she knows how difficult it can be when you don't understand their system.
After 20 years of experience in the field of aging where she felt like she was really helping people, Belanich had a desire to do her own thing. "I looked at the current services being provided. There are a lot of good things out there. I felt with my particular expertise I could work with solo agers and they could benefit from my background with long-term planning. My goal is to help people plan before a crisis."
Belanich comes with a degree in graphic design and then a master's degree in clinical art therapy. "Out of 20 in my class, I was the only one who wanted to work with older adults; the others all wanted to work with children. I was very close to my grandparents and always liked older people."
She spent some time managing an assisted living program for people with Alzheimer's and other forms of dementia in New York and 12 and a half years at Virginia Hospital Center managing senior health. But it was in her role at Goodwin House as its senior sales consultant that she was really exposed to younger, more active solo adults who she says could make decisions now before a crisis occurs.
Her business, located in Alexandria where she resides, can involve something different almost every day — with some clients the time has been brief. Other times she has researched options for a future move complete with helping pack up, managed and accompanied a client on doctor's appointments or scheduled and a day of activities like today. "My clients become like family."
See www.theagingnavigator.com.