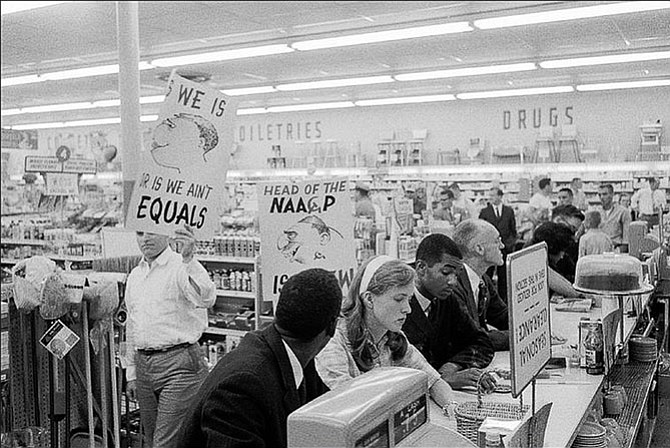 Step back into history at the 125th anniversary celebration of Cherrydale Neighborhood on June 9. The day will begin at 10:30 a.m. with the unveiling of a plaque reminding citizens of the lunch counter sit-in of June 9, 1960.
This brief ceremony will take place in the parking lot at 3815 Lee Highway outside the former Cherrydale Drug Fair where a small integrated group of college students conducted a peaceful civil rights sit-in after they were denied service at the lunch counter.
After the brief commemorative ceremony, a police officer will assist pedestrians in crossing Military Road to the nearby Cherrydale Library where Arlington County Board Chair Katie Cristol will begin the main ceremony marking the opening of a photo exhibit entitled "It Happened in Cherrydale: Three Brushes With History." Joan Trumpauer Mulholland will relive her experience on the historic day of the sit-in, which was the first step toward integration of drug store and chain store lunch counters in Arlington and Alexandria.
The photo exhibit will focus on:
The desegregation of Stratford Junior High on Feb. 2,1959. This was the first Virginia public school to desegregate. The school is currently H. B. Woodlawn Secondary Program.
The lunch counter sit-in at the Cherrydale Drug Fair on June 9,1960.
The contributions of the Cherrydale Volunteer Fire Department at the Pentagon fire on Sept. 11, 2001.
Greg Embree, member of "Cherrydale 125 Committee," says in addition there will be plaques devoted to famous people who were born or died in 1893, important 1893 inventions and books, as well as notable music composed in 1893.
Children can supplement their history lesson with free cake from Heidelberg Bakery, face painting and storybooks while octogenarians can recall the 1911 Stanley Steamer days with the still operational winner at the Greenbrier Concourse d'Elegance. Baby boomers can sway to the music of 1959 and 1960.
The afternoon will conclude with an invitation-only reunion of long-time Cherrydale residents, their descendants, "old time" former residents and special guests at the home of Scott and Kathy Springston at 1713 N Quebec St. Kathy Springston was born and raised in Cherrydale and today serves as the Smithsonian Institution's historian to Cherrydale and for Arlington County.