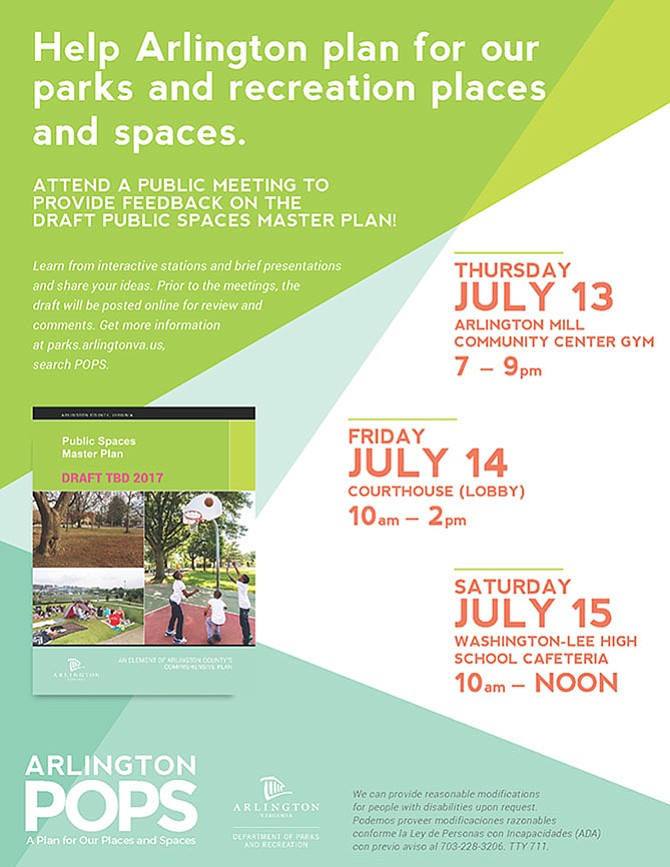 Ubiquitous Light
Even LED lights on a smartphone or PC should be turned down after dark, says Nancy Clanton, lighting designer:
If you have a smartphone, go to settings, choose night set back level and turn to warmer light after sunset.

Flux is a free program for Macs That helps reduce blue light during evening hours.
Nancy Clanton, a nationally recognized expert on lighting public spaces, is so concerned about LED lighting's health effects that she tells her interviewer to use the settings on her iPhone and PC to cut down on the glare.
LED Lighting of Arlington's playing fields will be just one topic up for discussion when Arlington residents get a chance to weigh in on the public spaces planning process on July 13,14, and 15. County Manager Mark Schwartz told residents on June 30 he supported the use of 4500 Kelvin (K) lights at the Williamsburg Middle School playing fields, saying it was a hard decision but one he made in favor of offering more Arlington residents, particularly in North Arlington, time on rectangular fields after the sun goes down.
In an interview on July 10, Clanton, a lighting engineer based in Colorado, said even modified to 4500 Kelvin (K), the lights run counter to American Medical Association (AMA) guidance that street lighting be no higher than 3,000 K. "The one thing all the medical professionals agree on," she said, "is that we don't know enough yet about the effects of high LED lights on humans. While the AMA believes 3,000 K or less is acceptable for lighting city streets, research is ongoing. Because she is engaged in lighting projects all over the country, Clanton said, "I just play it safe. If street lighting is an issue, then playing field lighting is even more of an issue because the light intensity is greater. If I do a project that could harm the public, I will be the one of those whose name is on the lawsuit. This is why cities like Fort Collins, Colorado and Denver have said, 'we need to play it safe. If AMA has issued a warning, it needs to be taken seriously.'" California cities are following suit, she said. "Sometimes what we don't know is a more powerful piece of information than what we do know," Clanton said.
The Arlington Public Health Department says it based its review of the LED lights on Musco Lighting's statements. Musco is the sole source vendor of the lighting systems to the county. Roy Gamse, who served on the Williamsburg Playing Fields Working Group (WPFG) said, "Eight times in their paper on the lighting's potential health effects, the health department notes, 'We rely on the sole source vendor of the lights, Musco Lighting.' If what Musco says is true, the health impact is not a major concern." The county manager's press release to residents addressed the sleep disturbances caused by LED lights by suggesting those effects could be remedied by developing a good sleep routine.
LED Lighting technology is a new and rapidly developing technology. In the most recent Virginia Tech lighting competition (2016) prizes were awarded only for street lights and pedestrian lights with less than 3000 Kelvin. This competition included sports lighting for the first time. The selected lights, even for large pro/college football applications, were in the 4300-5400 Kelvin range. Reviews of the competition also cautioned there isn't yet a great solution for neighborhood fields yet, so none of the lamps tested were in fact recommended.
One of the judges commented: "While significant advances have been made in solid-state sports-lighting equipment intended for large arena and stadium applications, an imperative exists for high-quality, affordable lighting to meet the demands of smaller exterior installations such as high school and recreation fields, which comprise the vast majority of sports-related exterior lighting. In particular, affordable luminaires for relatively lower mounting heights need improved glare management for player and spectator comfort, and also need to minimize unintended scatter light extending beyond property boundaries. Color and intensity consistency across the beams is also a concern, because the quality of the lighting has a significant effect on the appearance of the countless photos that are taken at such venues."
Residents who volunteer for such community organizations as the Building Level Planning Council (BLPC), which seeks to provide community input on planning for public spaces, have said with regard to LED lighting of fields that technology is moving so fast that developers may want to wait for a year or two, or proceed with caution, given the developments in the technology.
Other issues to be discussed at the public meetings in July are park facilities such as playgrounds, playing fields, pavilions, rest rooms, dog parks, and details like buffers of native trees/plants near dog parks which assist in removing pollutants before they get in the stream.
For the Virginia Tech study on outdoor lighting, see: VA Tech LED lighting design competition. http://www.ngldc.org/pdfs/NGL_16Winners_PressRelease.pdf
The full text of the AMA guidance on LED lighting can be found at:
www. ama.assn.org/sites/default/files/media-browser/public/abot-ama/councils/Council%20Reports/council-on-science-public-health/a16-csaph2.pdf.
For the county's press release on the lights at WMS, see: https://newsroom.arlingtonva.us/release/county-manager-recommends-lighting-williamsburg-fields/