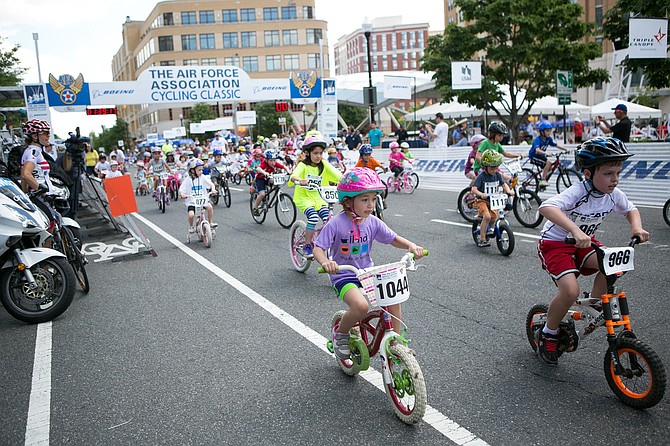 On Saturday and Sunday, June 13-14, hundreds of adults will be competing in the Air Force Association (AFA) Cycling Classic to benefit the AFA Wounded Airman Program. More than 300 children aged 9 and under are expected to race as well, but with another cause in mind. For the second year, the Kids Bike Race is dedicated to Ethan Klancnik.
Ethan was born on June 12, 2012 and shortly thereafter was diagnosed with Tay Sachs, an incurable genetic disease. After his diagnosis, his mother Michelle Klancnik formed the Tay Sachs Awareness & Prevention Organization (TSAPO) to bring awareness to the disease and to prevent similar genetic diseases by supporting affected families who would like to have additional, healthy children. The Kids Bike Race came about when Klancnik, Ethan's mother, decided to organize an event that Ethan and her twin daughters could be a part of.
"I wanted something [my children] could be involved in. The idea that children can give back and be involved in the community is something I want to instill in my children," she said. Unfortunately, Ethan died before the first race in his honor.
Now, "I just want to be able to help educate people," she said. She has taken an online Georgetown University genetics course, has attended several conferences and will attend the Illumina "Understand Your Genome" conference in the fall to learn more about the disease and genetics in general. A portion of the proceeds for the Kids Race will benefit TSAPO.
Her mission is to bring awareness to the disease with what Robert Laybourn of Arlington Sports, the event's organizer, calls a "crowd favorite."
"[I want children] to enjoy the satisfaction and the accomplishment of completing the race. As a kid, distances can sometimes be daunting. To complete a lap is a significant accomplishment," he added.
To learn more about the Kids Bike Race, visit www.cyclingclassic.org.kids-races. To learn more about TSAPO, visit www.tsapo.org.