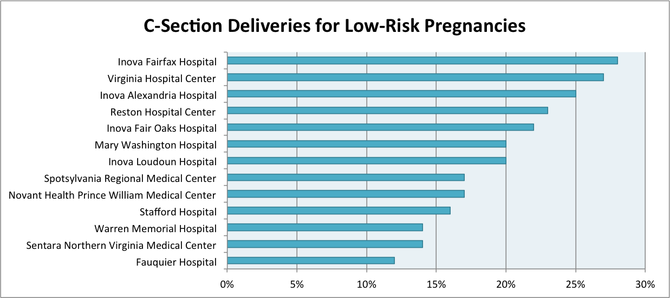 Hospitals with Highest C-Section Rates
South Miami Hospital, Miami: 44.9 percent
Hackensack University Medical Center, Hackensack, N.J.: 31.5 percent
Jackson Health System, Miami: 29.7 percent
Providence Memorial Hospital, El Paso, Texas: 29.2 percent
The Woman's Hospital of Texas, Houston: 29.2 percent
Baptist Hospital of Miami, Miami: 28.8 percent
Inova Fairfax Hospital, Falls Church, Va.: 28.4 percent
Las Palmas Medical Center, El Paso, Texas: 28.1 percent
Lenox Hill Hospital, New York City: 27.2 percent
Virginia Hospital Center, Arlington, Va.: 27.1 percent
source: http://www.consumer…">Consumer Reports
Audio clip
On the Radio
Behind the closed doors at Inova Fairfax Hospital in Falls Church and the Virginia Hospital Center in Arlington, a quiet change has been taking shape over the last few decades. Doctors at these two hospitals have been performing cesarean-section deliveries for low-risk pregnancies at a rate that far exceeds what happens at most hospital across America. Last week, the two hospitals landed on Consumer Reports' top 10 list for hospitals with high C-section rates.
"It's an alarming trend," said Dr. Michele Davidson, associate professor and coordinator of the PhD Nursing Program at George Mason University. "You have a much higher maternal mortality and morbidity rate when you perform a C-section versus a normal birth. So you're taking a surgical risk that does not need to be taken."
C-section deliveries have long been used for high-risk pregnancies, when the health of the mother or the baby is at risk. Since the 1960s, though, doctors have increasingly been performing C-section deliveries for low-risk pregnancies. These include women who have never had a C-section before, are not delivering prematurely or are pregnant with a single baby that is properly positioned. Critics say the procedures drive up costs and increase risks for mothers and babies, although hospitals say they are providing options to women.
"We work closely with expectant mothers and physicians to support choice, while providing a safe and personalized birth experience," said Maryanne Boster, director of corporate communications for the Virginia Hospital Center. "We are partnering with our physicians to constantly monitor and balance the needs of the mother and baby while ensuring we work towards the best outcome for both."
SINCE 1970, the number of C-sections performed in the U.S. has increased 500 percent. Davidson said a number of reasons are driving the trend. One is fear of litigation, largely driving by high-profile lawsuits involving women whose uterus ruptured when they tried to induce labor in a pregnancy following a previous C-section delivery. Another trend driving the increased number is that more and more women are electing to have the procedure, a practice known as cesarian-on-demand.
"They're done with such frequency that they are a very safe procedure," said Del. Patrick Hope (D-47), a lobbyist with the American College of Cardiology who is running for Congress. "Of course, what we are seeing is that the health plans are paying it. And so the health plans, which have everything at stake and are looking at the procedures and looking at the guidelines, they are clearly indicating it's appropriate."
Ultimately, though, the higher numbers may be related to money. Doctors can get higher rates of reimbursement when they opt for C-section deliveries. They also free up their schedule, allowing them to see more patients. The average labor time for a first-time baby is 16 to 18 hours, precious moments for doctors whose time is money. Davidson said she once worked at a hospital in Washington, D.C. where one doctor had a 100 percent C-section delivery rate.
"The only way one of his patients would delivery vaginally is if she walked in complete and he wasn't there," said Davidson. "He C-sectioned everyone because he didn't want to wait around for these women to deliver."
ANOTHER POSSIBLE explanation for Northern Virginia having higher rates of C-section deliveries for low-risk pregnancies has to with the culture in the region. Many professional women want to have a baby on their schedule rather than waiting around for labor. And military families are often under pressure to have babies on a schedule that has a strict deadline related to deployment. In many cases, these women undergo selective induction, a process in which labor is induced on demand
"When you give someone the medication to start labor when her body is not really ready, you start to see failed inductions which lead to a C-section," said Davidson. "So that's another factor that we did not have in the 1960s at all."
In March, the American College of Obstetricians and Gynecologists and the Society for Maternal-Fetal Medicine published in new practice guidelines designed to curtail the number of unnecessary C-sections. The two groups acknowledged that, in some cases, the procedure is medically necessary for the health and well-being of the mother or the baby. For example, the groups concluded cesarean delivery is firmly established as the safest route of deliver when when have conditions such as placenta previa or uterine rupture.
"Childbirth by its very nature carries potential risks for the woman and her baby, regardless of the route of delivery," the women's health organizations reported. "For most pregnancies, which are low-risk, cesarean delivery appears to pose greater risk of maternal morbidity and mortality than vaginal delivery."
ALTHOUGH MOST of the increase in C-section deliveries came in the 1970s and 1980s, recent years have seen yet another spike. Since the mid-1990s, C-section deliveries have increased yet again. In 2011, for example, one in three women in the U.S. gave birth by cesarean delivery, a 60 percent increase since 1996. Some are concerned that the rapid increase in cesarean birth rates raises significant concern that cesarean delivery is overused without clear evidence of improved maternal or newborn outcomes. Some leaders in the American Congress of Obstetricians and Gynecologists are calling it a "epidemic."
"I like to use that word because it's dramatic," said Aaron B. Caughey, M.D., a member of The College's Committee on Obstetric Practice who helped develop the new recommendations. "I use that word because this is nationwide and worldwide. It's something that's occurring that we need to understand better, and in my opinion it's something that we should work to forestall."