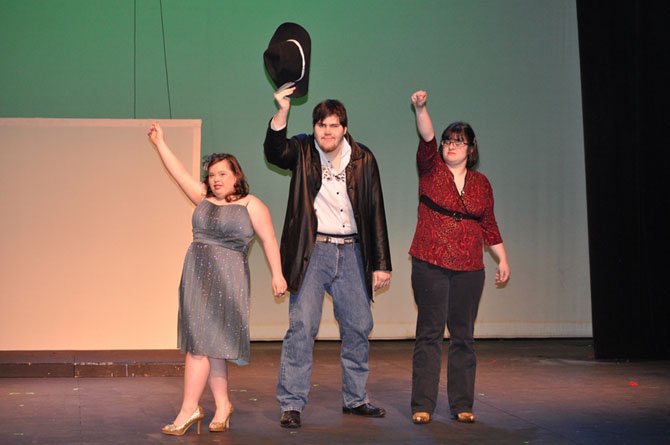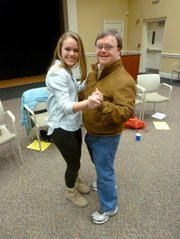 Arlington — This spring, two original theatrical productions are hitting the stage of Gunston Theater One in Arlington. Brought to audiences by the non-profit organization, ArtStream, the productions have casts of talented adults with a range of disabilities.
Each of ArtStream's Inclusive Theater Companies in Arlington will debut a show on March 27. The original productions, "The Legend of Blarnia" and "The Vegas Way," are each one-act plays.
The Inclusive Theater Companies have been putting on original productions since 2005, when a group of artists founded ArtStream to provide quality arts programming for people in the community.
"We focus primarily on the underserved, people with disabilities and wounded veterans," said Patricia Woolsey, one of ArtStream's five founders. "We saw there was a need in the community and a lack of meaningful experiences and we wanted to change that."
That, Woolsey said, is when they launched ArtStream's most public program, the Inclusive Theater Companies. They set up four theater companies, one in Arlington, one in Silver Spring, Md., and one in Gaithersburg, Md.
The programs were so popular that they have since expanded to eight companies, two being in Arlington and one in Raleigh, N.C.
"There was such a need and hunger, it became a much bigger nonprofit than I ever dreamed," Woolsey said.
The actors all audition for the spots, but priority is given to previous members of the program. There are waiting lists for many of the theater programs. ArtStream does its best to work with as many people as possible.
"This is our eighth season and we have auditions open to people in the community, though there is a preference for returning members," Woolsey said. "We do our best to accommodate as many people as we can, but there has to be the ability to perform in a group and a general willingness to express themselves."
The Inclusive Theater Companies begin to develop the productions in September. ArtStream hires professional artists to help develop the script, music and choreography. The actors all have input as well. The directors also incorporate the actors' strengths and talents within the stories.
"All of our shows are original and designed to highlight strengths of our actors," she said. "They are all original musicals. The director and the group come up with an idea together at the beginning of the season and the actors have strong influence on the direction of plot."
Though the shows are tailor made, the Inclusive Theater Companies are like any other professional theater troupe in its artistic process.
"A script is developed by the director and then a musician, composer and lyricist will write the music," Woolsey said. "Then, it is just like any other rehearsal process. It is staged, blocked and then we go up."
Woolsey is director of "The Vegas Way," which is set in 1960s era Las Vegas. The other play is a fantasy tale, "The Legend of Blarnia."
Kelly DeRoy is one of the actors in "The Legend of Blarnia." She had ideas that were ultimately incorporated into the plot and script.
"It's about fairies, dragons and trolls," said Kelly DeRoy, who added that she has made great friends through the program. "And the best part is being on stage."
Kelly's mother, Paula DeRoy, said ArtStream has been an amazing program for Kelly and for their entire family, and really for anyone in the audience.
"I thought ArtStream would just contribute to her development, but in actuality, it contributes to how other people see her," Paula DeRoy said. "They see that she is a person who can really stay on task, can follow a role, and she can focus. So what we've noticed is after people see her in a show, they are more likely to engage with her."
Paula DeRoy said she loves watching her daughter approach her roles in the ArtStream plays.
"With ArtStream, Kelly is completely independent," Paula DeRoy said. "She practices her whole script at least twice a day, and she is very motivated to do it."
Woolsey said that business partnerships, volunteers and donations all are integral to ArtStream and all of its programming, including the Inclusive Theater Companies. Some of the volunteers are on stage with the actors during the shows.
She said that she hopes to continue challenging stereotypes and changing the public perception of people with disabilities with the Inclusive Theater Company plays.
"It's the most public thing we do," Woolsey said. "We have some programs not open to the public, but it is still an important part of our mission to serve the underserved. I always hope we put on a great show so that audiences will really enjoy it. One of the other things really important to our mission is that we challenge our audience members about what people with disabilities are capable of doing. It is sometimes the first meaningful experience that people have with a disability."
Woolsey said she hopes to open more companies, and is constantly on the lookout for unused theater space.
"It's a very expensive process, but our goal is to go into communities where people want this," Woolsey said. "All communities could benefit from programming like this. We have been lucky that Arlington has been so generous with us."
The shows will run at the Gunston Theater One in Arlington, from March 27-29 and April 3-5. The curtain goes up Thursdays and Fridays at 8 p.m. and on Saturdays at 3 p.m. Each showing will include two one-act plays, each play lasting about 45 minutes.