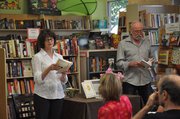 On a recent Wednesday evening, Mindy Mitchell and her partner, Edward Land, found themselves not only sharing some of the intimate details of their courtship, but also offering advice to other baby boomers who were looking for love. Mitchell, a bespectacled design consultant with cropped, chestnut hair, and Land, a tall, rugged longshoreman with a graying beard and matching receding hairline, were at One More Page Books in Arlington, to read from their newly released book on online dating for boomers.
"There were women who'd had intriguing experiences," said Mitchell. "They asked questions like how to know when someone puts something in [an online profile] that isn't true or not true anymore. One woman said she found a guy who said he was active, but when she met him, he was using a walker."
Sixty-one-year-old Mitchell of Reston and 63-year-old Land of Hampton recently published "Lube of Life: A Tribute to Sex, Love and the Pursuit of Happiness in the Boomer Age," a tome that chronicles their online dating adventure. They hope their story will inspire other single baby boomers who are searching for mates. "Dating in your 60s is a lot different than dating in the 1960s, to be sure," said Mitchell, who works as a design consultant at Sun Design Remodeling Specialists, Inc. in Burke. "Our message is one of hope and the courage to try one more time. Life is just too short."
Land, whose wife died prematurely of heart failure after 22 years of marriage, decided to try online dating because he was lonely: "I had been on my own for a year and a half and I missed the company of a sweetheart. I've always enjoyed the company of ladies."
Mitchell, who has been divorced twice, noticed Land's online profile, and though she found him attractive, the two became only friends at first. "Mindy and I were just buddies because she lived too far away," said Land.
"We became friends to help each other and give each other dating advice," Mitchell added. "We ended up having all of these long conversations and connected energetically. Then one day, I blurted out, 'Why don't we meet?'"
The book chronicles the evolution of their relationship from chums to lovers through a series of emails, text messages and dialogues. They share some of their innermost apprehensions with readers, their insecurities, thoughts and feelings, such as their first face-to-face meeting.
"I decided that I'd really like to have sex one more time before I die," said Mitchell. "We set up this time to meet for sex. If sex is like riding a bicycle, I wanted Edward to be my training wheels." She does offer a caveat, however: "That is not like me and I don't want to put it out there as a recommendation. You have to be careful. I had a background check [done] on him before we met."
When publisher Roseann S. Lentin of Turn the Page Publishing first heard Mitchell and Land's story, she knew it was a book in the making. "Now that baby boomers have a life expectancy that is now in the 90s, they are ready to have more of a revolutionary spirit," said Lentin. "The book was to be an inspiration for people to get back on the horse and get out there again."
Mitchell and Land say it is important to share details of their relationship in order to debunk some of the myths around online dating in one's golden years. "I think many baby boomers are uncomfortable with it," said Mitchell. "We talked to so many people of our age. There were so many angry people who said, 'Why do I have to go online to do this?' For a woman, it is more about facing your own fears. Men often want younger women."  
Ioana Boie, Ph.D., an assistant professor of counseling at Marymount University in Arlington says romantic relationships are important as people age. She also believes in removing some of the trepidation that often surrounds such discussions. "I think romantic relationships are a human need. We are relational beings," she said. "I don't think that people reach 70 and say, 'I don't want to be involved with anyone.' I believe romantic relationships mold who we are, offer support and help us be well."
John Martin of the online dating service Senior Match.com believes that an increasing number of those older than 50 are open to online dating as a way of finding a romantic partner. "I myself have met some terrific women online," he said in a statement. "In fact, it is now my preferred way to meet women by far. Plus, I personally know many people who have found their husbands, wives, boyfriends or girlfriends through an online dating service. This is one of the reasons I believe that the older population is feeling better about using the Internet to find someone."
Mitchell and Land underscore the importance of safety and honesty when using online dating websites: "There are people who are predatory and pick up on people's insecurities. Do a background check, especially as a woman," Mitchell said.
Land recommends a straightforward approach: "Be honest with yourself and the online community," he said. "It is pointless to tell people things that are not true. Have faith in yourself. Decide what is important to you, things you won't accept [and] what's negotiable."
Land and Mitchell are on a whirlwind tour promoting their book and sharing their wisdom. "The bottom line is not lose hope, and don't give up," said Land. "If you don't buy a ticket you can't win."