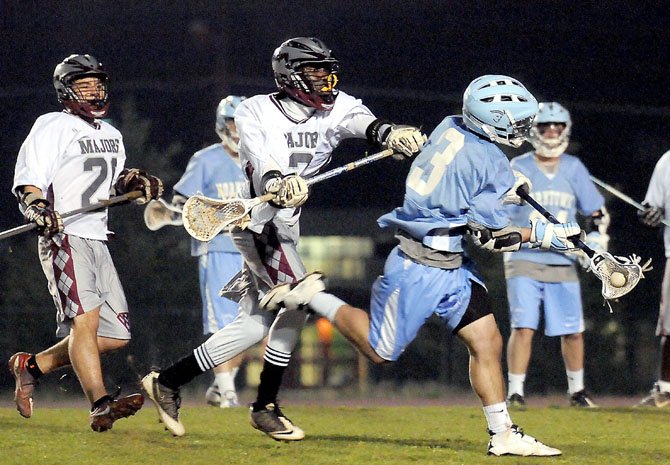 Mount Vernon — Yorktown junior attackman Joe Crawford called the team's March 16 performance against Mount Vernon "rough." After losing 18 seniors from last year's National District championship team, it might take some time before the Patriots put forth an effort of the smooth variety.
The Yorktown boys' lacrosse team trailed 4-0 after one quarter and never recovered, dropping its district opener at Mount Vernon, 6-3. After suffering an 18-8 loss to Centreville on March 14, falling short against the Majors was another step in the Patriots' growth process as the team tries to overcome the loss of Michael Crowe, the program's all-time leading scorer, Rory Devine, winner of multiple district Defensive Player of the Year awards, and standout midfielder Stephen Kang, among others.
"It's just one of those years," Yorktown head coach Greg Beer said. "It's hard when you lose a class that has that much talent and that many kids. It takes at least a couple games to get [into a rhythm]."
"It's just one of those years. It's hard when you lose a class that has that much talent and that many kids. It takes at least a couple games to get [into a rhythm]."

— Yorktown boys' lacrosse coach Greg Beer
Against Mount Vernon, Beer said Yorktown was without five seniors who were on a school trip, meaning even more inexperienced Patriots got a chance to see the field. Sophomore Will McMahon, a converted midfielder, made his first varsity start at goalkeeper for the Patriots. After allowing four goals in the first quarter, McMahon surrendered just two for the remainder of the contest, including one in the second half. Beer praised the effort of McMahon and team's defense.
"Defensively, it was gusty," Beer said. "We gave them a couple goals early and we just sort of clamped down and we did really well those last three quarters."
Offensively, however, Yorktown struggled as it took the Patriots more than 16 minutes to get on the scoreboard and more than 28 minutes to score twice. Sophomore attackman Nico Pollack finished with a pair of goals and senior midfielder C.J. Fennell added one.
Pollack and junior A.J. Liddle will try to fill the shoes of graduated attackmen Crowe and Cameron Cornelius, both three-year starters. Crawford is Yorktown's other starting attackman and the Patriots' top offensive threat. He figures to be the focal point of opposing defenses after a strong sophomore campaign.
"They're going to key on him, absolutely," Beer said. "He had 50-plus goals as a sophomore last year and he's really active in the crease. He's a smart player [and] he by far has the best lacrosse IQ that we have on offense."
Crawford, who was held scoreless against the Majors, said the Patriots need to step up offensively.
"We act focused, but when it comes game time, it kind of slowly goes away," Crawford said. "We need to work on intensity throughout the entire game and, as an offense, we really need to jell because our defense has been having to step up."
Senior long-stick midfielder Harrison Steen, senior midfielder Jack Maher, senior defender Josh Fleetwood and Crawford are team captains. Beer said junior defender Jonathan Shears played well against the Majors and Timothy Aldinger, the only freshman on Yorktown's varsity roster, has a chance to be a quality long-stick midfielder.
While Yorktown will have to battle the issues that accompany youth and inexperience, the Patriots still figure to have a target on their backs when facing district opponents after capturing the 2011 championship.
"We tell the kids — especially when it comes to National District teams — when they come in [as] JV guys, here as eight-graders and freshmen, you've got to play up to how the kids before you played," Beer said, "and keep to that standard."
Crawford said the Patriots don't want to surrender their place atop the district.
"We feel like it's our district," he said. "We've got to protect it. We're going to have a target on our back, but we've got to live with it."